Meg Hayertz had a booth at AWP 2016 offering Tarot Readings for writers. I went in asking what the cards had to say about the status of some upcoming projects, but Meg said that the readings she did wasn't about answering questions about the future; she used the cards as a way to break through writer's block. She asked if I had any stories or characters that I was just starting or having trouble with. And there was one story I had in mind with only a vague that I wanted to explore. As each card was revealed, so too was a little more about the characters and their struggles, both who they were and what they wanted. Meg was extremely knowledgably about the cards and explained their backgrounds, symbolism and how they connected or contrasted with other cards. It was a freeing and serendipitous experience to talk out ideas that jived with the kind of story I wanted to tell. By the next week, I had finished a first draft.
— Maxwell Bauman, Door Is A Jar, Editor-In-Chief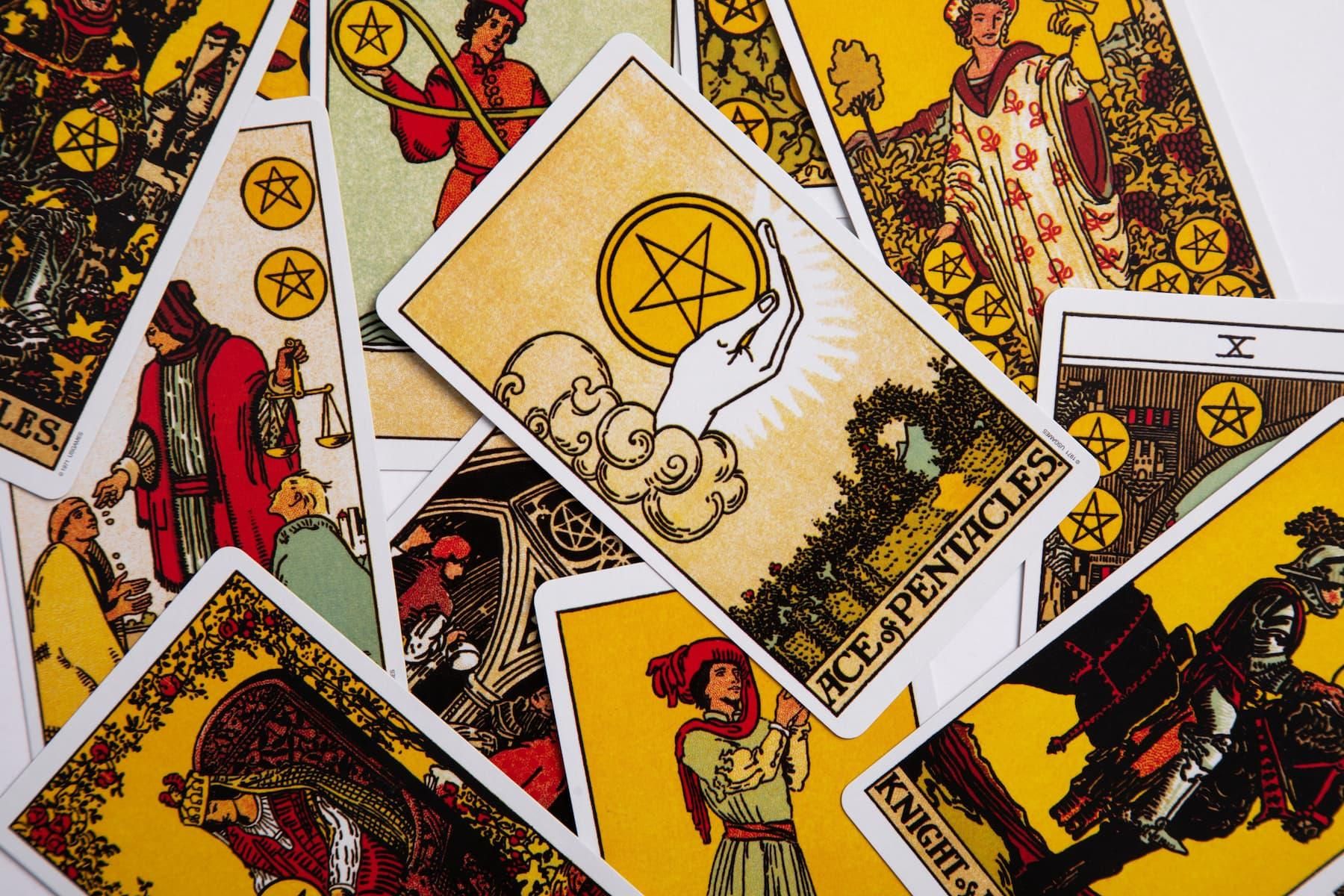 I'm biking uphill, past an elementary schoolyard filled with expensive-looking children and an expensive-looking play structure sprouted from green rubber ground. Two humans only a couple feet tall approach one another, tentative and curious. Like animals across species: golden retriever and turtle, octopus and owl, human being and human being, human being and lion. One inches across the cushioned ground toward the giggling other. The other's arms twisting together, head of curly blond hair tilts. The one's mouth clawing the inside of his own elbow, eyes too far open, wide at being seen by her.
Discovery on the brink of terror. No script.
As artists, we seek unexpected connection. I'm a Tarot reader for writers and artists. I help creatives smash through creative block, connect deeply with inspiration, and finish their project. I offer spreads for character, plot, structure, creative process, theme, image, and title. I help my clients achieve their artistic goals and meet their deadlines by prompting them to unite their own — or their character's — visceral, lived experience with the abstract, with theme.
In a Tarot reading, an artist is guided to her connection with the unknown. The path is a conversation, a dance. Awe and doubt. Mystery swims inside us, and we can become unrecognizable to ourselves — a kid on a playground, existence still fresh.
When I was writing my second novel, I tried to make meaning from the three months I spent as a college student living in a Buddhist monastery in northern India. Writing about the town of Bodh Gaya, I tried to connect with this special and conflicted place. I'd found that difficult to do when I lived there. But, I was giving myself another chance. Lurking like a riptide: my role in neocolonialism. My thoughts scrambled every time I slipped towards the paradox: one of the most spiritual times of my life was available to me through of the ongoing legacy of deep harm inflicted upon people who call Bodh Gaya home.
I got stuck. I regarded myself as unacceptable. I realized that something within me was small, no longer relevant.
I asked my girlfriend at the time, who grew up in Uttar Pradesh, for help. My questions revolved around figuring out a way to make my original story idea work. Finally she said, "For someone who's spent so much time in India, you know nothing about it."
My worst fear splashed onto my face.
I couldn't sidestep anymore. The content of my stuckness was, of course, what I should have been writing about all along. I back went to my desk and stepped into the next — deeper, truer — layer of my novel.
Writing is painful! We must take care of ourselves. We must take care of each other in our artistic communities. Aren't we in this, after all, for the pleasure of connection?
Tarot — the way one card leads to the next, the way image soothes—taught me to dance sweetly with the unknown. In complexity, possibility.
Stuckness means the death of something within us. Why not approach this moment with the ritual of the cards? Meet stuckness with gratitude. Sing it a lullaby. Make tea, expect awkwardness, expect mystery — and listen.
Honor how the beat of your heart slows in grief, then quickens in anticipation, slows-quickens, slows-quickens. Slow, quick: two species. Visceral, abstract: two species. Firm ground, the abyss.
On the playground, one kid's gaze reverse-telescopes inward. The other giggles louder. The one stares gravely into his elbow. Then he does it, again, he meets her eyes. Twisting, lightning-strike terrified and sugar-rush excited. Glowing with bashfulness. Grins.
Meg Hayertz is a novelist, Tarot reader, and connoisseur of whale song. She lives for dinner parties. She believes creating is an act of listening. She holds a BA with Honors in Creative Writing from Knox College, and an MFA in Writing and Consciousness from California Institute of Integral Studies. You can read her work in The Louisville Review and VoiceCatcher. She offers workshops and Tarot readings to help creatives smash through creative block, connect deeply with their inspiration, and complete their project. Meet her at MegsTarotReadings.com.